STORY BEHIND THE STORY - 03.29.2021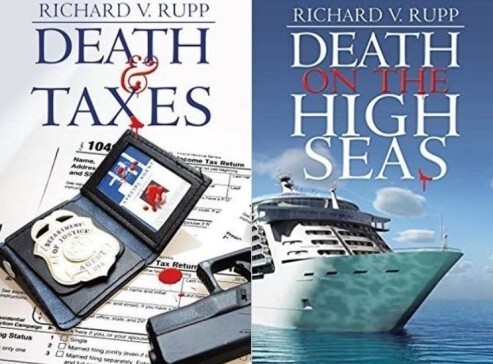 March 29, 2021
I grazed on chips, salsa, Que Bueno cheese, guacamole, shrimp cocktail, and meatballs this weekend while watching March Madness. At least one of these West Coast Teams will make the final four – UCLA, USC, Oregon State, or most likely Gonzaga. My love of March Madness and college basketball certainly does cut into my writing time.
My novels contain a story behind the story. I was happy to see this being recognized by one of my first novel DEATH & TAXES reviewers. Yes, my plots involved a murder to be solved by FBI Special Agent Hartmann and his San Francisco-based squad. But, they also are built around something that is developing on the world scene. As a researcher for the insurance industry, one of the things I did was try to predict society's direction. My stories are based on this same concept. From my business research background, I study what is developing and build it into my plot. Here's what I mean –
DEATH & TAXES
Yes, FBI Special Agent Hartmann and his San Francisco based squad are trying to solve the murder of an IRS Agent in Fresno, California, but –
The story behind the murder is that drug cartels around the world are as big as multi-national corporations. Like multi-national corporations, they make joint-ventures (an enterprise undertaken jointly by two or more parties that otherwise retain their distinct identities) that allow them to expand their criminal activities. Often these joint-ventures cross country lines, making it difficult for a single country law enforcement agency to stop them. The world's cartels look at themselves as a business venture with more resources than any law enforcement agency.
In the novel, Juanita, who has inherited her fathers' Mexican cartel, states, "As father says, thank God for the Americans. Without their cravings for drugs, we wouldn't have a business. You know, I have my university degree in Economics. One time I spent hours thinking about our size. You must remember we don't pay taxes. Our labor costs are very low. Protection and lost merchandise are our most costly expense. But, based on my calculations, that cost is still less than if we had to pony up for American welfare benefits. Considering all of this, I determined we'd be in the top thirty percent of the Fortune Five Hundred List. Our cartel's sales are in the billions of dollars each year."
DEATH ON THE HIGH SEAS
This time Hartmann and his team are investigating a murder on a cruise ship. Note that if you decide to murder someone, a cruise ship is a place to do it. My research indicated few murders aboard cruise ships are solved. One article indicated just 14 percent. In the US, the FBI is charged with international investigations. This means response times can be extremely slow. In one case, a person's disappearance on a cruise ship was not reported for 5 weeks.
In DEATH ON THE HIGH SEAS, the story behind the story is the use of financial transactions such as captive insurance companies for money laundering. During my commercial insurance days, I worked with major corporation's CFO's, risk managers, and their CPA firm and tax attorneys to set up off-shore captive insurance companies to self-insure their risk. But mostly, they wanted them for tax avoidance and to ease cross-country money transfers.
* * *
Here's some text from the novel – IRS agent Larson is explaining the captive insurance company concept to FBI Special Agent Hartmann – "A captive is a great vehicle for hiding money, moving money between countries, and money laundering, things the IRS does not like. By the way, in what country is Bon Appetit Insurance Company set up?" . . ."From what I have figured out so far, Bon Appetit actually consists of two captive corporations. One is in the Cayman Islands, and the other is in Luxembourg."
(As an aside, I spent a lot of time in Bermuda and the Cayman Islands. It was nice duty.)
. . . Larson continued. "Let me give you some examples of what we have found. From what I have heard, often, a policyholder will charge higher-than-necessary premiums in one country and then pay false claims in another to move money between the countries. In one instance, an animal mortality policy was issued on a supposed racehorse in the United States, which suddenly died. Generally, tax law allows insurance claims payments to flow in the US tax-free. This allows premiums paid in other countries that are accumulated in an offshore tax haven to be transferred tax-free to the US owner of the racehorse. I understand there are all kinds of schemes like this."
* * *
Yes, IRS Agent Larson there are. According to an FBI investigation between the mid-1970s and the mid-1990s, over 50; possibly as many as 100 horses were killed to collect insurance proceeds. In 1977 the heiress Helen Brach disappeared and was presumed by law enforcement to have been murdered as part of an animal mortality insurance fraud scheme to keep her quiet. Over the 20 years in which the horse murders took place, several different motivations led horse owners and trainers, often affluent and well-respected people, to become involved in what ultimately became a widespread conspiracy.
Do you think murdering horses is terrible? How about a corporation murdering employees to collect on insurance. Yep, it's been done. Someday I might write a book titled something like THE DEATH JOB. The murder of employees has taken two forms. One is like the racehorse scheme. A corporation takes out a large keyman or corporate-owned life insurance policy on a specific employee and then has them murdered for the proceeds. An employer may take out a key person insurance policy on the life or health of any employee whose knowledge, work, or overall contribution is considered uniquely valuable to the company. Under the Internal Revenue Code, life insurance benefits paid due to an insured employee's death are usually excluded from the taxable income of the beneficiary. Watch out if you get a big unexpected promotion. Particularly if your fellow employees tell you the last three people who held that position died of unusual circumstances.
Or, there is what is known as "Janitor's Insurance" or "Dead Peasants Insurance," where the corporation unknown to their employees buys life insurance on them to get the proceeds tax-free. I write fiction, but I'm not making this up. In April 2002, the Wall Street Journal published an article titled "Companies Profit on Workers' Deaths Through 'Dead Peasants' Insurance," describing what was then a little-known practice wherein large companies purchased corporate-owned life insurance (or COLI) policies on low-level employees to garner tax breaks and profit from their deaths. The practice is as widespread as it is little-known. You sure you want to ride on that company van?
SKYWARD (Manuscript in Process)
My upcoming novel SKYWARD is about a different kind of death. Not the death of people or horses, but instead of society and maybe Earth.
This death is recognized by five wealthy millennials, who now realize they are now the ruling class. They come from the most educated and diverse generation ever. Millennials have been molded by near-constant upheaval — Sept. 11, "endless wars," the Great Recession, the internet of everything, racial and gender reckonings, global pandemic — and the equally consistent failure of institutions they depend on to save the day.
"The gerontocracy has been slow to recognize that their world is different from ours," said 33-year-old freshman Rep. Ritchie Torres, D-N.Y., who is gay and Afro Latino. "I belong to a new generation of leaders who are more progressive and more disruptive, as well as diverse as everyone else in America."
My five millennial protagonists believe the solution to the problems they see is seeking a new frontier that will allow humanity to survive and may help heal the Earth. They decide to change Horace Greeley's phrase "Go West, young man" to Go Skyward, young man.
They believe the Earth has run out of new frontiers. And that frontiers are a safety valve for the problems created by humans. By establishing colonies in space seems the logical answer to them. Their plan is to colonize the moon and use that colony as a stepping stone to colonize the Universe. SKYWARD takes you through their journey.
I think the following from an LA TIMES article by Erin Overbey about the "The Wizard of Oz" relates to my five millennial protagonists – "In 1992, Salman Rushdie published a ruminative essay in The New Yorker about 'The Wizard of Oz" and its surprising influence on his own 'writing. As a child, in Bombay, he titled the first story he ever wrote "Over the Rainbow." Rushdie was captivated by the movie's twin themes of escape and homecoming. The film, he argues, is "about the joys of going away, of leaving the grayness and entering the color, of making a new life in the 'place where you won't get into any trouble.'" It can also be lightly interpreted, he suggests, as a kind of homage to the immigrant experience—with Judy Garland's beguiling "Over the Rainbow" serving as a "grand paean to the Uprooted Self." Rushdie's work points to the allure of this idea of reinvention. One more step down the Yellow Brick Road (and toward less travelled shores), he seems to be saying, and you're well on your way to freeing your imagination."
My novels are available on this Amazon Website - Amazon.com: Richard V. Rupp: Books, Biography, Blog, Audiobooks, Kindle
Back to March Madness.
Cheers,
Richard V. Rupp, Author
Website – www.richardvrupp.com Email – rupprisk@gmail.com
Copyright©2021 by Richard V. Rupp