DÉJÀ VU MOMENT - 04.28.2021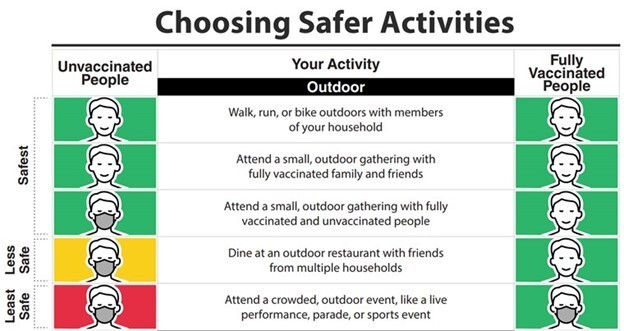 April 28, 2021
As a writer of novels, I love developing characters. They are more critical to the story even than the plot. Readers buy into a character more than a plot. Because of this, I love people. Yes, I'm a people watcher and love to eavesdrop on their conversations. Many a line of mine in a novel came from eavesdropping. A facial or body movement description came from my looking at people's expressions. This part of my writing research was taken from me by the pandemic—no expressions, and who could understand what was being said with that mask on.
Today, we will be able to see smiles and frowns again as we walk down the street. I will be able to eavesdrop again. Americans who have been fully vaccinated against Covid no longer need to wear masks unless they're in a crowd of strangers, the CENTERS FOR DISEASE CONTROL AND PREVENTION (CDC) said in new guidance announced. And, in some cases, those who are unvaccinated can go without a face covering outside. See the chart included with this post.
On top of that, it was announced last night that where I live - Los Angeles County has one foot in the most lenient category of the state's COVID-19 reopening system, a momentous achievement for a region that was once so ravaged by the coronavirus that it was considered the epicenter of the pandemic in California. With any luck next week, most businesses where I live can operate indoors, with modifications.
It was a déjà vu morning for me as I read an announcement that expansion of the Los Angeles light rail system was being considered to include WEHO. First, I don't remember when West Hollywood became WEHO. But, it seems every place goes by an acronym or nickname these days. Quoting from the announcement – "It will also mean more mobility options to and from the City of West Hollywood and more convenient access to key healthcare and employment centers such as Cedars-Sinai Medical Center and the Pacific Design Center, as well as cultural and entertainment destinations such as The Grove and the Hollywood Bowl."
My déjà vu moment was that my transportation from my parents' home in WEHO to Hollywood High School was on a Pacific Electric red streetcar. It ran along Santa Monica Boulevard, thru Garden Junction up to Hollywood Boulevard. In the 1950s, you could travel from downtown Los Angeles to Beverly Hills via Hollywood and West Hollywood. More than 1,100 miles of track spanned the L.A. area for the Pacific Electric "Red Cars." When I was a kid, I played on the empty streetcars at the Pacific Electric Car Barn, located where the Pacific Design Center is today. The Red Cars were replaced with bus routes and freeways, with the last Red Car running in 1961.
In my last post, I indicated that both my sons and I enjoyed watching the delayed 2020 Academy Awards. Apparently, we were in the minority. At least as respects the comments I read from the professional reviewers. Here's part of a review by the L.A. TIMES Entertainment Columnist Glenn Whipp – "The never-ending awards season ended Sunday — abruptly. It was as if Joaquin Phoenix was as exhausted as the rest of us when he shuffled off the stage at the end of the 93rd Oscars, having mumbled that Anthony Hopkins won lead actor. He didn't explain that the 83-year-old actor wasn't even there because he was at his father's grave in Wales, reciting Dylan Thomas. Which ... all things considered ... stands as a justifiable excuse. To be honest, there were moments Sunday night when being at a cemetery would have felt preferable to watching the strange brew Steven Soderbergh and his fellow producers served up."
The above is just one of the reviews I read, but they all seemed to follow the same theme. I can only guess that this year there was not as much free booze flowing in the Award's press room, and the reviewers were dishing out their punishment. I liked the show! I thought it was a people's show!
Enough for this post. Back at you on Saturday.
Cheers,
Richard V. Rupp, Author
Website – www.richardvrupp.com Email – rupprisk@gmail.com
Copyright©2021 by Richard V. Rupp