OPEN, CLOSED, OPENED, CLOSED . . . - 02.01.2021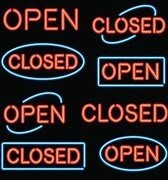 February 1, 2021
Where did the day go? I'm late in writing this post. My excuse is the coronavirus. During this pandemic and stay at home requirements, I have totally lost track of time. I stayed up last night until 3 AM watching a movie. So today is someone off.
After a late breakfast (more like brunch), I headed over to Ralph's Grocery Store to restock up on Dairy Pure 2% boxed milk (Yes, it comes in a box and does not have to be refrigerated until opened – kind of like canned milk, but tastes like regular milk), frozen orange juice, and tonic water for my gin and tonics. Guess what? They didn't have any of these items. Seems the pandemic has made them very popular because they keep. So I had to get regular milk, bottled orange juice, and go to the liquor store.
Then I took my daily walk down six blocks of Burbanks San Fernando Road. There have to be at least 30 small businesses closed on this street since the beginning of the pandemic. My standard watering holes – Wokcano, Gordon Biersch, Fantasia Billiards, Urban Press Winery, Over/Under Public House, and Story Tavern are still there. There was a sign on Story Taven that read something to the effect, "We are not reopening again until it's for real!" A couple of months ago, I talked with Giovani, the Urban Press Winery owner, the frequented hangout for me. He had just reopened for maybe the third time, and I kiddingly said, "How long are you going to stay open this time?" He hit me over the head with a menu and just stared at me. I was kidding, but I think he has opened and closed three more times since.
I am looking forward to getting back to visiting my watering holes. I have not gone to them in about six weeks now because of the current coronavirus scare. At least three people in the apartment building where I live have contracted it, and I understand one lady had died from it. My Grandson Ryan contracted a mild case of it from his place of employment and spent ten days in isolation. Because of this, I am committed to staying at home until I get my vaccine shots, which will probably be a couple of months from now.
There will be some interesting news in my next post about my upcoming book, SKYWARD. At least during my isolation, I can still work on writing my novels.
It appears Gavin Newsom, our Governor, may be recalled, mainly because of the OPEN, CLOSED, OPENED, CLOSED . . . policies he has decreed. Along with the open and closed thing is follow the science or protect the economy philosophies contradicting each other.
Back with you on Wednesday.
Cheers,
Richard V. Rupp, Author