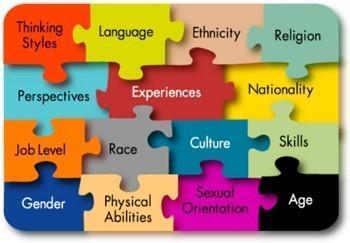 August 12, 2020
Diversity is a word that is bantered around a lot these days. That got me thinking about the diversity of Special Agent Hartmann's FBI squad. It is my belief, which I have transferred to Hartmann that diversity makes us more creative.
In developing my characters for the Hartmann series, I subconsciously picked a diverse cast of characters, because of my business background (more on that later). Hartmann is a middle-aged white male California guy who loved surfing as a kid, UCLA grad, who served as an Officer in the Army Finance Corps. Coleen is an attractive younger white female who grew up on the Main Line of Philadelphia, a Villanova grad, Catholic, and had worked as a corporate lawyer in New York. Harriet is an attractive black lady from Chicago who attended LSU and was an Intelligence Officer in the Army. Brian, the only married squad member, is a young, clean-cut Morman from Salt Lake City, who has an accounting degree from BYU. Daniel is an Asian computer geek, who because of his genes, has a hard time handling alcoholic beverages and has a degree from UCLA. Spoiler alert - Rosy Peria, a Hispanic who appears in my first novel "Death & Taxes" as a Lieutenant in the Fresno Police Department, will be joining the squad in a future novel.
I experienced the success of diversity when I staffed the West Coast Operations of Continental Risk Services, a new venture (1981) for the Continental Insurance Company. The professional staff was made of an interesting collection of graduates I culled from Georgia State and the University of Wisconsin, who had advanced degrees in either finance or risk management. Their diversity led to numerous brainstorming sessions that produced productive 'alternative risk transfer,' 'risk funding,' and 'company structural changes' for the insurance industry and its clients. The support staff was headed up by an older female British Administrative Assistant who kept all of us "thinkers" in line.
As respects crime and Harmann's squad crime-solving skills, diversity plays a part. Quoting from an article titled "How Diversity Makes Us Smarter," by Katherine W. Phillips – "Research has shown that social diversity in a group can cause discomfort, rougher interactions, a lack of trust, greater perceived interpersonal conflict, lower communications, less cohesion, more concern about disrespect, and other problems." And, "We need diversity if we are to change, grow, and innovate."
I have always felt you need to get to know someone before you are comfortable with them. It doesn't make any difference whether they are white, black, brown, Asian, straight, or gay; there are some people you like and some you dislike. Just try to be kind.
Finally, I love the television show Jeopardy and respect Alex Trebek. Here is a quote from a recent interview with him - "I'm trying to cope with how I want to do it," he says. "You have to do it in a way that doesn't make it seem as if you're picking on certain people or denigrating their points of view or putting them down because they're obviously not bright enough to come up with the same conclusions you've come up with."