HELSINKI'S SUBTERRANEAN PARADISE - 03.27.2021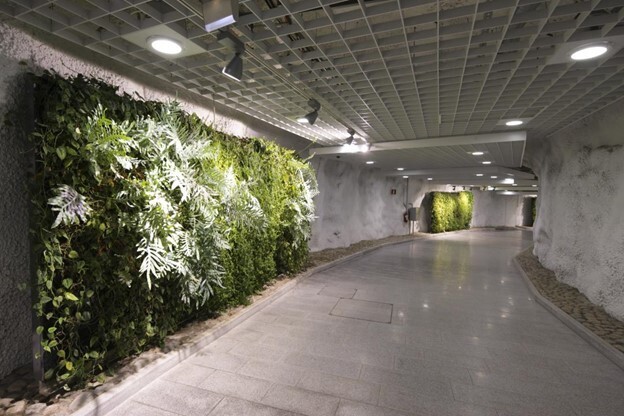 March 27, 2021
Happy Saturday, Everyone – It's March Madness weekend, and I'm going to be watching a lot of basketball. For me, this means looking forward to watching the Oregon State, Villanova, Gonzaga, UCLA, and USC games. I'm rooting for these teams to win.
Yesterday afternoon, I did my daily walk on San Fernando Boulevard through Downtown Burbank. The street was lined with people, and the restaurants were packed. It was good to see. Unlike a lot of the country, the weather was beautiful. A lot of people were in shorts and short-sleeved shirts/blouses. Hopefully, we are winning the battle against the pandemic.
In my upcoming novel SKYWARD, much of the Bowman Colony on the Moon is underground. So I was fascinated to read an article about Helsinki's underground city. This got me searching for similar articles, and I found underground facilities exist around the world. I selected the picture attached to this post of a tunnel walkway in Helsinki's underground city because of the vegetation they have planted along its walls. Other photos showed an unbelievable underground city. I envision that my Moon colony will look similar.
Nearly 200 miles of tunnels connect the Finnish capital's master-planned subterranean playground. Over 100,000,000 square feet of underground space has been developed, including a museum, church, go-kart track, hockey rink, and retail stores. They are all brightly lit. Helsinki began excavating tunnels through bedrock in the 1960s to house power lines, sewers, and other utilities. As they did so, it was realized that the space could also be home to retail, cultural, and sporting attractions.
Of great interest to me was the data center, co-developed by Helsingen Energia and ISP Academica. The facility is nearly 100 feet beneath the surface and features a unique cooling system that avoids using any electricity or fossil fuels. Instead, the cool waters of the Baltic Sea are used to cool the computers. The servers' excess heat is pumped into the district heating network, heating buildings on the surface. At maximum capacity, the heat produced by the computers is enough to heat 500 single-family homes, all while producing 2 megawatts of energy. I can see a similar configuration used in the Bowman Colony, except the Baltic Sea water would be replaced by the above-ground freezing moon environment.
A Novel Ripped Straight Out of the Headlines – That was not my plan. But, it seems the headlines may be catching up with me on SKYWARD. In my novel establishment of the Bowman Colony is supported by the President of the United States. This is because he has learned that China is in the process of developing a moon colony and has been advised that the federal government will not be able to follow suit for many years. To compete with China, he decides to rely on America's private enterprise. The Bowman Twins and their friends.
Here are a few tidbits from recent news articles -
A March 24th article by Doyle McManus in the L.A. TIMES about Biden's recent press conference has this subheadline – "How the United States and its allies force China to follow international rules was left unanswered." The article goes on to state that "President Biden has a strategy for selling his next massive economic recovery bill: exploiting fear of losing out to China. "If we don't get moving, they're going to eat our lunch," the president told senators recently, listing China's ambitious infrastructure projects as a reason to embark on our own. . . They have an overall goal to become the leading country in the world, the wealthiest country in the world, and the most powerful country in the world," Biden said. "That's not going to happen on my watch because the United States is going to continue to grow and expand."
From a recent NEW YORK TIMES article - "Beijing has shown time and time again that it frankly does not care what the international community disapproves of," said Diana Fu, an associate professor of political science at the University of Toronto. "It is playing by its own rules, like it or not."
From a BROOKINGS INSTITUTE article by William A. Galston – "Although public opinion rarely determines the specifics of U. S. foreign policy, it typically defines the zone within which policies with public visibility can be sustained over time. Recent survey research has underscored a shift in Americans' attitudes towards China that is far-reaching enough to sustain the most adversarial stance toward the Middle Kingdom since the Nixon administration's opening of relations half a century ago."
The article quotes a Gallup Poll study which indicates that "The share of Americans who see China as our greatest enemy has doubled in the past year, from 22% to 45%." And a PEW RESEARCH CENTER poll found that 64% of Americans disapprove of China's handling of the COVID-19 pandemic; fears triggered by China's economic rise are key to shifts in public opinion. Sixty-three percent of Americans now see China's economic power as a "critical threat," up from 40% in 2018 and 46% in 2019.
Finally, from a BROOKINGS report – "Control over global telecommunications networks is a form of political power. 5G networks are expected to form the foundation of a smarter, connected economy linking countless devices and sensors together. Eager to build these networks worldwide, China has subsidized its 5G champion companies and projects around the world as part of a 'Digital Silk Road' initiative.
From research done months ago, I learned that China has an "Outer Space Silk Road" initiative.
Yes, SKYWARD is based on the headlines and takes you beyond them.
Cheers,
Richard V. Rupp, Author
Website – www.richardvrupp.com Email – rupprisk@gmail.com
Copyright©2021 by Richard V. Rupp