RUPP'S NOTES - HARTMANN'S WATERING HOLES - 05.06.19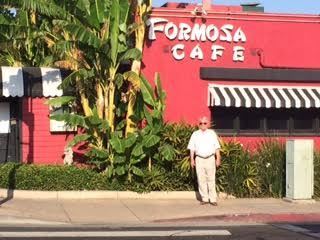 May 7, 2019
HARTMANN'S WATERING HOLES
You may have noticed that FBI Special Agent Hartmann maintains an expensive lifestyle. He manages to eat and drink in some of the world's best places like someone on a corporate executives expense account. He's more like a British 007 than an American law enforsement officer. I claim authors license. That's why I have given him a family trust and a rich Uncle.
It is said that you should write about what you know. While that's not necessarly true when you are writing fiction, you do rely on what you know or have experienced quite often. Therefore many of the places Hartmann visits are ones that I frequented on my good old expense account days. Below I have listed and commented on several of my old haunts and indicated how they were incorporated into the Hartmann series.
I look forward to your comments and hopefully some of you will include discriptions and stories about your favorite watering holes. With your permission, I may use some of them in future Hartmann novels. But, there will probably be a murder or murderer nearby.
Le Central Bistro - San Francisco - I have made 'Central' Hartmann's second office. It was mine. Yes, Le Central really does exist. I have sat at the bar many a lunchtime and afternoon. It was a regular Friday afternoon meeting spot for the 'Mischievous Irregulars' who were made up of insurance and banking executives from the nearby Financial District. Many of our names are on a plaque on the back wall of the bar.
I understand that former San Francisco Mayor Willie Brown still holds forth there on Friday's. During my days there he often hosted former Governor Arnold Schwarzenegger, Congresswoman Nancy Pelosi, and many other political and social figures. Occasionally, I had the opportunity to play boss dice with them at the bar. The description of Hartmann being included in such a meeting is described in my novel "Death & Taxes." My ucoming novel "Death on the High Seas" begins with Hartmann being offered a free cruise by one of the 'Mischievous Irregulars.' You will need to read the novel to see how this plays out.
Brunello de Montalcino - Italy - Your right, this is not a watering hole, but rather what some watering holes might have available to drink. 'Central' would not be one of them. I have included it because it is one of the things that helps shape Hartmann's personality. Instead of 007's "shaken, not stirred," Hartmann checks the wine list for a Brunello de Montalcino. Not, quite as sexy, but it does project an image.
My experience with this wine goes back to an Italian wine tour, where I asked if I could order a case to be shipped to the U.S. The answer was "Yes, we can do that." Several weeks after returning to San Francisco, I received a call from my condo's security guard indicating that he had my medical supplies downstairs. I still love receiving medical supplies from Italy that comes in twelve red bottles. The medicine has a complex, bold taste, increases in effectiveness with age, and you don't need a glass of water to wash it down. Though you do need a glass.
Formosa Café - West Hollywood - I was brought up in West Hollywood. My dad had worked at RKO Studios, which was near the Formosa Café, and then ended up retiring from Warner Bros.in Burbank, where I currently live. This was one of my first watering holes, when I was going to Los Angeles City College and then working at my first real job with the Pacific Fire Rating Bureau. The picture above is me recently revisiting the place.
The reason I have included the Formosa Café is because of one of the patrons I remember. Let, me say at the outset this patron was not Kim Basinger, Humphrey Bogart, Nicolas Cage, Brad Pitt, Paris Hilton, or any of the other 49 notary patrons listed in Wikipedia. My character Om in "Death on the High Seas" is based on a patron who frequented the Formosa. The following is from the novel -
Alan leaned over toward Anita, "That's his usual starting position. I have watched him do this dozen's of times."
"Do what?"
"Pick up girls."
"Well, I can see that. He does have that Indian charm, and the British accent doesn't hurt," responded Anita. "I wouldn't mind if he made a move on me."
Alan ordered another round of drinks. "Just watch. He'll stand in that spot and check out the female talent. Then he'll move to a barstool next to the gal he likes and uses his standard opening line."
"Okay, you've got my curiosity. What's his opening line?"
Alan smiled, "Do you like to fuck?"
"That's his opening line?"
"Swear on my mother's grave."
"I can see where that line might get a reaction."
"Curious, how would you respond to that line?"
Anita laughed, "Let me thing? I guess it would depend on my mood and how impressed I was with the guy. If I was in a good and the guy was good looking my response would be, 'doesn't everyone?' Thenon the other hand if I was in a bad mood and the guy was a creep, I would say, 'go fuck yourself and toss the drink he bought me on him."
Yes, the Formosa Café had an interesting clientele.
Hurley's - New York City - For a couple of years when I was working for Marsh & McLennan in Los Angeles, I was assigned to a brainstorming group that met for one week a month in the New York Office. Our assignement was to come up with solutions to the lack of capacity that existed in the insurance industry from a 1970's financial meltdown. Our solutions included ways to get more capital into insurance companies so they could write more business and to develop concepts such as captives, finite risk policies, and the concept of risk securitization that could be used by large corporation in place of traditional insurance. I remember one CFO from a major corporation telling us that his firm was larger than any insurance company, so he did'nt want to rely on them and liked what we were doing.
The things I learned working with this brainstorming group, provided me with the money laundering and money movement ideas used in my novel "Death on the High Seas."
During this period, I discovered Hurley's at the corner of 49th Street and Avenue of the Americas, which I understand is now closed. In my novels, I have transferred some of the things I experienced at Hurley's to the 48 Lounge, which I only know from research. It appears that they have a simular crowd to that of Hurley's. The great thing about Hurley's was that it was frequented by employees of NBC, The Associated Press, and Radio City Music Hall. In fact, NBC New York Headquarters had installed a direct line from their office to the bar. One of the bartenders had the ability to remember your name forever after one visit.
Monkey Bar, Elysee Hotel - New York City - I like piano bars, and found this place on the recommendation of the Essex House concierge. On one occasion I was sitting at a table across from the piano when a group of four came in and sat at the table next to me. I struck up a conversation with them and joined with them in singing along with the piano player. After a few drinks, I learned from one of the group that the older lady with them was a madam (the number three definition in Webster's) and they were there seeking new talent for her establishment. After a couple of hours they left in a big black stretch limo with the addition of one young lady. Apparently, they had completed their mission.
Round Robin Bar, Willard Hotel - Washington, D.C. - When I was with Continental Insurance Company, I made several trips to Washington, D.C. and found my way with the help of our insurance industry lobbyist to the Round Robin Bar. It is located in walking distance of the center of power (i.e., the Capital, the White House, and numerious government agencies.) If you are a listener and outgoing talker, you can find out some interesting things in such a place. It is where the senior aids of senators and members of congress can be found. Just as interesting are the bars across the Potomac in Georgetown where the junior aids have their watering holes.
On one trip I was to testify to a congressional committee dealing with the possibility of expanding the National Flood Insurance Program to include other catastrophe perils such as wind and earthquakes. In preparation Continental's Chairman John Ricker, Jr. specifically told me he did not want Washington, "sticking their nose under our tent. If we suffer natural catastrophe losses greater than we can handle, I (Ricker) would go to Washington with hat in hand to seek help. I don't want them to get further into our business than they already are!"
When I'm in the hearing room I'm surprised to find Hank Greenberg, then Chairman of AIG and a team from State Farm recommending that the Federal Government provide more natural catastrophe insurance. There was a definate difference of ideas within the industry.
In the end, nothing in the way of legislation came from the hearings, but AIG did end up having to go hat in hand to get a government bailout in 2008 to the tune of $150 billion. It was not because of natural catastrophe losses, but rather their involvement in "credit default swaps" on "subprime mortgages," that were a major contributor to the National Financial crisis that ran from 2007 to 2010. This started the concept of "too big to fail."
If thing go as I plan, Hartmann will be a regular at the Round Robin Bar, several novels down the road, when he is transferred back to FBI Headquarters.
Rules - London - My friends at Lloyd's of London loved to entertain foreign clients. I'm not sure if it is still this way, but back in my day, the U.K. provided a tax incentive that allowed Brit's to wine and dine foreign clients. My Lloyd's buddies would usually take me to a pub for a pint or two at lunch and then we would go for a late dinner at an upscale restaurant. I don't know how they did it, but they would go back to the office before dinner and I would head to the hotel for a nap. It seems all of the restaurants they would take me to were modern in design and had continental chefs. But, I would always insist that on one of the nights of my stay we go to Rules, London's oldest restaurant. Here's a segment from my upcoming novel where Hartmann has taken his squad to his favorite London restaurant -
The driver drove into the Covent Garden district and then turned on Maiden Lane, where you could not miss Rules. The car pulled up to two large red canvas awnings with the name Rules spelled out in big white script. To complete the British effect, above the awnings were traditional British flower boxes.
As they walked throught the front door, Brian commented, "We're not in the U.S. anymore."
They had entered a red-velvet-upholstered wood-paneled fantasy of the past. The wood-paneled walls were covered with large scenic and portrait oil paintings, and small drawings and vintage Punch cartoons. Animal antlers of various sizes and types were mounted on the walls between or above the artworks.
The maître D' escorted them to a red velvet booth, and within seconds their waiter stood before them in his formal black coat and pants with a white shirt that was complimented with a black bow tie. To finish off the outfit was a white half apron that went from the waiter's waist to his knees. "Welcome to Rules. Have you dined with us before" came out of his mouth in a British accent.
Rules menu includes the following notation - "Game dishes may contain lead shot."
One of Hartmann's female squad members make this comment after Hartmann had lsited famous patrons of Rules -
Harriett commented, "I noticed your list is all men. My impression in looking at the patrons, décor and silver beer tankards this is an old men's club."
Eldeberry House - Oakhurst, California - A stakeout occurs at this very upscale restaurant in "Death on the High Seas." If you want an evening of great food accompanied by a wine pairing, this is the place to go. In front of me as I write this is "The Rupp Party" custom menu from August 9th, 2008. Yes, it is an evenings experience.
Berghain - Berlin, Germany - This famous European disco club is included "Death on the High Seas." I have not been there. My discription is based solely on Internet research. If you have been there please let me know how close I have come to discribing the place. Here is a partial discription from my novel -
Emelia worked her way through the large open area with its 60-foot ceilings supported by massive unpainted concrete pillars. If the club had a planned interior design, it would be defined as minimalist.
She ducked to the left passing under the club's main staircase, where an overly energetic young man dressed in knee socks and short shorts was dangerously close to falling on her.
Avoiding as much as possible the cavernous raised dance floor filled tonight with mostly shirtless gay men, and the disheveled guys in sneakers looking to pick up one of the tiny women with tiny backpacks Emelia worked her way to small passageway that led to a back stairwell.
This evening she had no interest in the mingling with 1,500 bodies that were exuding vast quantities of sweat, nor listen to the electronic disco music blasting from the stacks of Funktion One speakers, or smell the weed, sweat, and urin filling the air on the club's grand turbine hall.
And - There are numerous other places such as the Bull & Bush, and Spago's, in L.A., the Washington Bar & Grill (Washbag) in San Francisco, and on and on. I'm sure by now you get the idea how I incorporate what I have experiences or researched into my novels.
Rupp's Notes Signup - If you like what you see here and want to receive future copies of my periodic notes, lease go to my website - www.richardvrupp.com and click on the Rupp's Notes wording just below my name and sign up.