MOON LIFE - 02.06.2021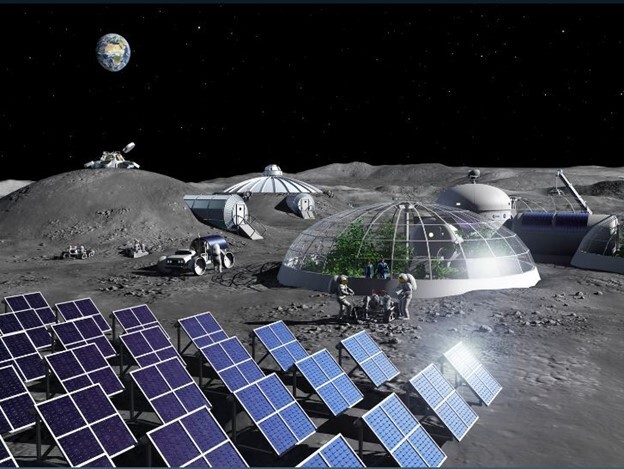 February 6, 2021
Happy Saturday! The country seems more divided than ever, and I'm not talking about the debate over Brady vs. Mahomes! I'm excited to put politics on hold and get ready for the Super Bowl this weekend and watch two great quarterbacks at work. I'm rooting for the Buccaneers, but only because of the age of their quarterback. We, old-timers, have to stick together.
For my upcoming novel SKYWARD, I have been doing a lot of research on what it would take to develop a colony on the Earth's Moon.
My major discovery is that my plot is not original. In a June 20, 2019 article titled "The best place to live on the moon" by Sally Adee, many of the things I have contemplated have been contemplated by others. This is from her article –
* * *
"On the moon, as on Earth, it's about location, location, location. This year – the 50th anniversary of the first human steps on the moon – a lot of serious projects are underway to go back, and this time they want to stick around. In the past few years, it has become increasingly clear that the best place to put a crewed base is the lunar south pole. Its mountain peaks spend so much of their time dazzled by blinding sunshine that they are informally called the Peaks of Eternal Light. Their location is not only crucial for generating solar power, but they sit next to craters in permanent shade, where water is stashed away in ice. This is prime real estate.
. . . China announced plans to snaffle that spot. That could raise some interesting property disputes: China surely won't be the last or only nation to build a lunar base. And neither will nation-states be the only ones looking to plant flags – Jeff Bezos recently joked (?) that he wouldn't be opposed to building an Amazon fulfillment center on the moon. . .
As big and empty as the moon is, there won't be a huge amount of space for all these interests to spread out. Thanks to the moon's desolate geography and 14-day night, the usable area for settlements is actually pretty sparse – the solar peaks aren't just the best spots, they're pretty much the only spots.
However, in his recent book Red Moon, science fiction god author Kim Stanley Robinson offers another, much more intriguing option, which could significantly expand the moon's real estate market. And it is not necessarily science fiction."
* * *
I've ordered Kim Robinson's book and look forward to reading it. My plot involves two extremely wealthy identical twins who decide to establish a colony on the moon. My research has taken me to Jeff Bezos and Elon Musk, both of whom are interested in space colonization. I believe Musk has established the Boring Company in addition to SpaceX to drill underground caverns on the moon for living purposes. In SKYWARD, the initial living and workspace space is underground. Simultaneously, above-ground buildings are constructed from bricks made from the rubble that results from the underground drilling. Note "the European Space Agency officials have revealed the latest 'moon bricks' that could be used to construct lunar habitats." I have read several articles on how these 'Lego Like" bricks could be formed using heat and fitted together. My research indicated that three-story structures could be easily constructed. The reduced gravity eases the construction process. I'm not sure about dome-shaped structures, which seem to be popular in drawing of space colonies. My plan is for everything to be square, which to me simplifies construction.
Before reading Sally Adee's article, I had the concept of competition between my twins and China for moon colonies. It is apparent that the Chinese Government is looking to colonize space and that the United States politicians are passing the baton to private enterprise. In my book, both China and my twin brother entrepreneurs establish moon colonies. The Chinese colony is developed by its military. It is headed by a young military officer who ends up friending my twins. There is a cooperation between the two young colony leaders that is not relayed back to Earth. India may also establish a colony??? Not sure about this yet.
In an article by Professor Darby Dyar at Mount Holyoke College, she indicates, "the moon is to people today what the New World was to Europeans 600 years ago. They had been there a few times, but it took time to work up the courage to send people there to stay." Again, this is also the feeling of my wealthy twins. They also believe the Earth has entered a crisis mode, and for humanity to survive, they must colonize space. It is the new frontier.
I'll go into moon life and the 'slip and slide' moon dance in my next post.
Cheers,
Richard V. Rupp, Author