A HAPPY NOVELIST - 03.15.2021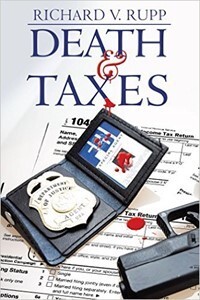 March 15, 2021
Hello Everyone –
I hope your day is going well. It looks like at least the Good Old USA is getting a handle on the C-Virus. Not sure about the rest of the world, particularly the "Developing Countries."
My upcoming novel SKYWARD is moving along well. This morning I saw a comment by Alice Hoffman, who writes young-adult novels and children's books on the WRITERS DIGEST Website that confirmed this. She observed, "After a while, the characters I'm writing begin to feel real to me. That's when I know I'm heading in the right direction." My characters in SKYWARD are feeling "real" to me.
I was pleased to see that my first novel, DEATH & TAXES continues to be listed on the latest edition (March 9, 2021) of the 18 BEST FBI THRILLER BOOKS. With that, here's the lead-in and what Tyler Denning had to say about FBI Thrillers that are guaranteed to satisfy, and my novel -
* * *
Almost since the FBI was founded during the Teddy Roosevelt presidency in 1908, novelists and filmmakers alike have been cooking up fictional episodes of the legendary G-men. Some of these classic tales are tributes, and many more are conspiracy theories. More often than not, in books about the FBI, the feds are positioned as the outsiders that arrive uninvited, at the chagrin of local law enforcement.
Despite all the cliches, there's something about a good FBI thriller novel that pulls you in and just won't let go. The wiretaps, the suits, the bad architecture of its legendary Washington D.C. headquarters. It just works.
DEATH & TAXES by Richard V. Rupp
A smart, morally complex and quintessentially American crime thriller.
In this under-the-radar gem of a book, an IRS auditor is found dead at work from a gunshot wound with a small-caliber pistol.
Was it suicide, or murder? That's the question posed to FBI agent Dick Hartmann, head of San Francisco's Violent Crime Squad. Readers know far more from the outset than Hartmann does (it was murder, of course), but Hartmann's journey is riveting nonetheless. The case leads him to the IRS mailroom, to a local street gang and eventually, to Los Angeles.
Author Richard Rupp's gift for strong characterization make Death & Taxes a riveting read from page one, when the Disney characters adorning the IRS walls seem to agitate the killer ("Were the powers that be simply implying that the IRS tax rules were akin to Alice in Wonderland?"). Later, our introduction to Hartmann comes as he's reading a copy cup intended to, ahem, stroke the ego of anyone named "Dick" ("Meaning: Powerful; mighty and great…").
Within the context of a smart police procedural, Rupp makes sure we're firmly inside the characters rather than merely watching from a distance. That brings immediacy to every scene, whether the perp is ditching a getaway car, or Hartmann is meeting celebrity chef Wolfgang Puck.
Throughout, the divide between white and Latino society in California is a recurring theme. Rupp holds a mirror up to contemporary society's socio-economic divides and succeeds wildly, managing to both illuminate and entertain while never letting up on the tension established in the opening chapter.
* * *
Back to writing.
Cheers,
Richard V. Rupp, Author
Website – www.richarvrupp.com Email – rupprisk@gmail.com