RULES RESTAURANT - 09.02.20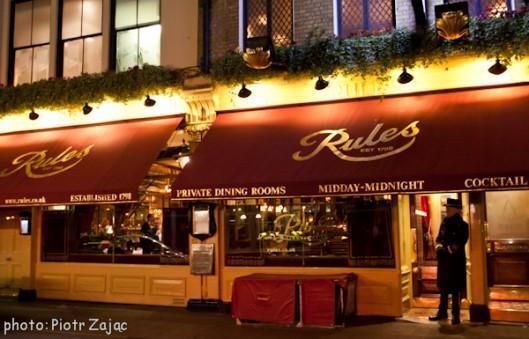 September 2, 2020
In my novel 'Death on the High Seas,' I have Hartmann take his squad to Rules Restaurant in London. Why? Because during my insurance days, I would frequently go to London. I would visit underwriters at Lloyd's of London and other London underwriting agencies. My hosts always wanted to take me to a modern upscale restaurant, of which London has many. But, I would also ask to go at least one night to Rules. It opened in 1798 and is now a grande dame of the Covent Garden scene, serving classic British dishes emphasis on game. It just became a tradition for me.
When I started writing the dialogue for the novel, I thought back about Rules and realized it was a stodgy old male kind of place. Quoting from a review of the restaurant, "Service is polite and attentive, characteristics much admired by the mainly middle-aged-and-over clientele. . . Everything is cooked plainly, but with care and using decent ingredients."
So I ended up with this dialogue –
"Dick, it seems you've been here a few times," Daniel said.
"I always try to come here at least once when I'm in London. This would not be a regular spot, but for me, at least it's a fun place that actually has great food and excellent service. The place pretty well speaks for itself, and it has a lot of history, which I like. In the States, we think a restaurant is old if it makes it past twenty years. This place is over two hundred years old."
Harriett said, "My impression in looking at the patrons, décor, and silver beer tankards: this is an old men's club."
"Didn't think I was that old, but I can see why you would say that. Does seem to be an older crowd of mature men."
"Don't get me wrong, Dick; I do like older men, just not this collection."
"Point noted."