3D PRINTING – ADDITIVE MANUFACTURING - 02.17.2021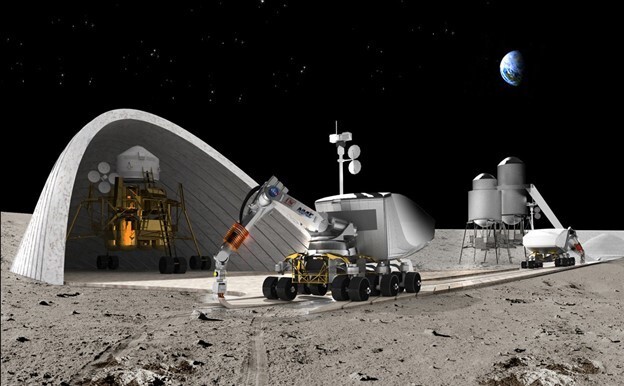 February 17, 2021
WOW – From coffee cups to buildings. And, food – Really?
I always loved my old insurance industry jobs. As a researcher and product development guy, I was always on the cutting edge of what was happening in finance, manufacturing, retailing, hospitality, social changes, etc. I've been away from that for some time now.
Boy, am I getting an education from researching for my upcoming sci-fi novel SKYWARD. What was once sci-fi to me is now a reality. Curious, am I the only one that is so far behind the times? How did I miss the extent of the 3D/Additive Manufacturing concept? I had heard about 3D Printing but had no idea it had progressed to where it is today.
Based on what I have learned will definitely change the payloads on my initial supply spacecraft to the Moon. (see my last post – MOON COLONY STRUCTURES) 3D printers and the raw materials they use will replace many bulky items that otherwise would have to be transported from Earth.
What is 3D Printing/Additive Manufacturing? It is the process of making three-dimensional solid objects from a digital file. The creation of a 3D printed object is achieved using additive processes. An object is created by laying down successive layers of material in an additive process until the object is created. Each of these layers can be seen as a thinly sliced cross-section of the object.
3D Printing is the opposite of subtractive manufacturing, which is cutting out / hollowing out a piece of metal or plastic with, for instance, a milling machine. It enables you to produce complex shapes using less material than traditional manufacturing methods.
A company that I did some consulting work for when I was at Marsh & McLennan - Heward Packard (now just HP), yes the computer/printer manufacture today also makes 3D Industrial Printers. The following is from their ad for 3D printers – "Examples of metals that can be used in a 3D printer are diverse - Stainless-steel: Ideal for printing out utensils, cookware, and other items that you could ultimately come into contact with... Bronze: Can be used to make vases and other fixtures. . . Gold: Ideal for printed rings, earrings, bracelets, and necklaces."
In writing my FBI Special Agent Hartmann series, I was aware 3D guns existed. But, wasn't really sure what that meant. I now know that the first know 3D guns were noticed by law enforcement in 2013. They were pretty low-tech one-shot guns that required some non-3D parts. Today a gang-member or criminal can make a 100 percent 3D printed semi-automatic rifle that can fire 9 mm ammo and is durable enough to fire thousands of rounds. The nickname for these guns is FGC-9, which stands for "fuck gun control 9 mm."
In addition to metals, a 3D printer can make objects out of: Plastic - which is the most common raw material for 3D Printing in use today. Powders - today's more state-of-the-art 3D printers use powdered materials to construct products. ... Resins. ... Carbon Fiber. ... Graphite and Graphene. ... Nitinol. ..., and Paper.
Now, let's think really big. The New York-based firm SQ4D listed what is purported to be the country's first 3D-printed house to go up for sale. A company named ICON has completed the largest 3D-printed structure in North America – a military barracks.
The U.S. Military has indicated that 3D Printing can address mammoth construction projects for them. Particularly in response to natural disasters. They noted that the 3D construction process is five times faster than traditional approaches and has "significant" cost and labor savings.
To build structures, many different 3D approaches have been demonstrated. They include on-site and off-site fabrication of buildings and construction components, using industrial robots, gantry systems, and tethered autonomous vehicles. Demonstrations of construction 3D printing technologies to date have included fabrication of housing, construction components (cladding and structural panels and columns), bridges and civil infrastructure, artificial reefs, follies, and sculptures.
Manufacturing in a box certainly makes it easier to establish a colony on the Moon. Based on my research, if you designed a 3D printer specifically to convert Moondust into a brick, it would be about 23" deep, 35" wide, and 70" high. It would take such a printer about 3 hours to produce a brick, or 8 bricks a day. There could be different-shaped bricks made to ease the building process. In SKYWARD, 5 such machines are Moon bound (40 bricks a day), along with other printers to make utensils, cookware, fixtures, etc.
I mentioned "food" at the outset of this article. Yes, 3D printers are already available that use paste-type food ingredients, such as chocolate, pancake batter, and cream to make edible meals. There are many other possibilities (even pizza!).
You can see why in SKYWARD, tunneling habitats proceed 3D constructed outside structures. But, both are needed to provide the required space and items for the Moon colony. We are getting there.
Cheers,
Richard V. Rupp, Author
Email – rupprisk@gmail.com Website – www.richardvrupp.com