SCI-FI, CHINA AND IMMERSION COOKING - 03.13.2021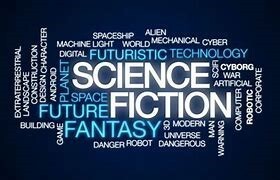 March 13, 2021
In my upcoming novel SKYWARD, the story I tell has taken me from the procedural crime genre to the SciFi genre. It's a current story that does involve FBI Special Agent Hartmann but with a forward-looking plot that takes the story into the future. I have tried to base everything on science, but some things are unknown, so I had to use my imagination.
I found an interesting article from the SCRIPT Website written back on July 14, 2013, by Jenna Avery titled the Sci-Fi Circuit: The Purpose and Value of Science Fiction. Her comments apply perfectly to what I'm trying to accomplish. Here are several excerpts from the article –
* * *
"Does sci-fi serve a purpose beyond that of entertainment or escapism? . . .Arthur Clarke (2001: A Space Odyssey) once said, "There's no real objection to escapism, in the right places… We all want to escape occasionally. But science fiction is often very far from escapism. In fact, you might say that science fiction is an escape into reality… It's a fiction which does concern itself with real issues: the origin of man; our future. In fact, I can't think of any form of literature which is more concerned with real issues, reality."
1. Sci-fi makes us think, wonder, and ask what if and why. . . .Carl Sagan wrote the book Contact in an attempt to answer such questions, and in doing so, to my mind, provoked even more such questions in asking of them. And isn't that a beautiful thing?
2. Sci-fi allows us to ask hard questions about gender and racial equality and how we treat each other. . . .Gene Roddenberry, the creator of Star Trek, said, "For me, science fiction is a way of thinking, a way of logic that bypasses a lot of nonsense. It allows people to look directly at important subjects.". . . there are countless Star Trek episodes that ask moral questions, including issues of equality, sexism, and racism.
3. Sci-fi looks ahead to the future and asks, is this where we want to end up? . . .there's a terrific book called The Windup Girl by Paolo Bacigalupi that looks at the possible future of agricultural disaster, the end of the oil age, bio-engineered viruses, and posits major social struggles over seed banks and energy sources. I Am Legend looks at a future where an attempt to save humankind from cancer results in its downfall. . . .Isaac Asimov (I, Robot, Nightfall) said, "Individual science fiction stories may seem as trivial as ever to the blinder critics and philosophers of today, but the core of science fiction – its essence – has become crucial to our salvation if we are to be saved at all."
4. Sci-fi is a powerful place to dream up and imagine new technology. . . .So many technologies have been devised on the pages and screens of sci-fi – inspiring scientists and inventors to "make it so."
. . .And remember the wisdom of Ray Bradbury (Fahrenheit 451), who said, "Science fiction is the most important literature in the history of the world because it's the history of ideas, the history of our civilization birthing itself. …Science fiction is central to everything we've ever done, and people who make fun of science fiction writers don't know what they're talking about."
* * *
I love Author Clarke's comment, "science fiction is an escape into reality." That's what I'm trying to achieve with SKYWARD. Only time will tell if I succeed.
My daily reading also took me to a March 11th article by Matt Miksa, a former FBI counterintelligence analyst in CRIME READS titled "IS CHINA THE NEXT SPY FICTION SUPERVILLAIN?" In it, he states that "Chinese authoritarianism offers a powerful antithesis to American democratic values and provides writers with a panoply of options for a good versus evil showdown."
Yes, Matt, I'm taking you up on your suggestion. As indicated in my past posts, my novel SKYWARD has the Bowman Twins, with the backing of POTUS and the Chinese both establishing colonies on the Moon at the same time. And, there is an interplay between the leaders of the two colonies. Is that good or bad? You'll have to wait and see. The game is afoot for control of the Universe, or is it?
To further confirm Matt's thoughts, below is a statement from the Quad published on March 11th by NRP News. The Quad is a newly formed organization that includes the United States, Australia, India, and Japan. It was created at the suggestion of President Biden to step up efforts to counterbalance China. The decision to hold a leaders' summit now is a clear "escalation" aimed squarely at Beijing, says Lavina Lee, a senior lecturer in politics and international relations at Australia's Macquarie University. "It's a way of saying to China: OK, we started the Quad, we were hoping to send you a signal that we had concerns, and we were hoping that you would respond by stepping back from some of the worst aspects of your expansionist kind of behavior," she says. "And what has happened since 2017 is that there's been no stepping back of China's behavior. In fact, it's escalating, not deescalating."
On the lighter side, I'm experimenting with immersion cooking at my son Brian's suggestion. He tells me it's a great way to cook steaks. For those who don't know, immersion cooking is most well-known for its ability to perfectly cook meat and fish. To cook a steak medium rare, you pop it in the bag, squeeze most of the air out, and set it in a pot of hot water for two to three hours. The pot is kept at a constant preset temperature by an immersion heating pump clamped to it. Apparently, this method is used in many high-end gourmet restaurants, including chefs Heston Blumenthal, Paul Bocuse, and Thomas Keller.
I have always had trouble figuring out the directions that come with new products. That was not the case with my new Anova Precision Cooker. They have solved my problem by basically providing no directions. So between the Internet and texts with my son, I tried cooking a New York Steak. My first problem with figuring out how to keep a sealed bag from floating to the surface of the pot. I managed to weigh it down, and the steak turned out great. During and after the process, I drank lots of red wine. But, felt great in the morning.
Looking forward to March Madness.
Cheers,
Richard V. Rupp, Author
Website – www.richardvrupp.com Email – rupprisk@gmail.com