THE FRENCH LAUNDRY DINNER - 02.24.2021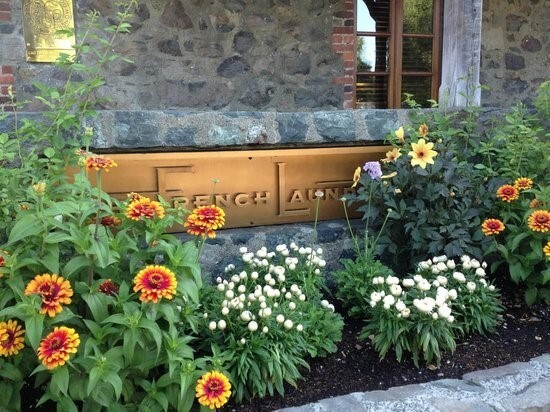 February 24, 2021
Good Wednesday to everyone.
Here's an update on where I am on my novel SKYWARD.
First, I'm rethinking the books' title and may change it to DEATH OR SKYWARD. This would tie it into my other novels – DEATH & TAXES and DEATH ON THE HIGH SEAS. But I'm not sure about this yet.
The 'French Laundry Dinner' is the title of Chapter 11 of my manuscript for SKYWARD. To help fund their dream of establishing a moon colony, the Bowman twins decide to ask for their long-time buddies' help. They invite their Clique buddies Gavin, Elon, and Jeff to a dinner at the French Laundry in Yountville, California. Here are parts of the dinner conversation –
* * *
Gavin and Jeff were the first to arrive. They stood looking out at the culinary garden from the second-floor private dining room of The French Laundry in Yountville, California. It had been one of their families' favorite restaurants and a regular meeting spot for the Clique.
"A lot has happened since our last meeting here," said Jeff.
"That's for sure. Based on what Norman said, it should be an interesting meeting."
"That it should. And, it's the first time I will be meeting their wives."
Gavin laughingly said, "Yeah, about that. Let me fill you in. For our identical twin friends, they picked two ladies that have a lot in common but couldn't be more different-looking."
"How's that?"
As Gavin was about to answer, a waiter entered the room. "Sorry to disturb you, gentlemen. Just checking to see if you wanted something to drink while you are waiting?"
"Tradition," Gavin asked Jeff?
"Yes, tradition."
"Waiter, what's your name?"
"Carlos, Sir."
"All right, Carlos. If you are good to us tonight, we will be very good to you. To start, bring use two ice buckets, each with a bottle of Dom Pérignon. When a bottle is placed back in a bucket as a dead soldier, you are to replace it. And, we will need seven champagne glasses. You understand?"
With a big smile on his face, Carlos responded back, "Oh yes, Sir. I fully understand. I'll be right back."
Turning back toward Jeff, Gavin continued, "They were kind of a surprise to me, and I think Daniela. Both of their wives played for the Stanford basketball team and were roommates. They both are over six feet tall and majored in science and engineering. They are both extremely attractive. But, Diana, Norman's wife, is black, and Lexie, Chris's wife, is a blond who looks like she came off the Baywatch show. Interestingly, she has an identical twin."
"I'm surprised I wasn't invited to the weddings."
"Man, you are behind the times. Being in Seattle and that internet marketing thing of yours has certainly taken you out of the loop. They were both married simultaneously in Las Vegas. It was a spur-of-the-moment thing. As I remember, that's the same thing that happened with their parents."
"So, I take it they have moved back into the Bowman Manson with their mom."
"Yeah. I don't think they will ever leave that place."
A voice came through the doorway. "Hey, you two. Are you talking about us?"
"As a matter of fact, we were," responded Gavin. "I've been filling our Seattle friend in on what he's missed over the past few years."
"God, it's good to see you, Jeff, shouted Chris. "How's life been treating you. Like I didn't know."
"Good to see you too. And, who are beautiful friends?
* * *
"As usual, that was an unbelievable dinner," Norman said in a loud voice to attract everyone's attention. He then looked over to the waiter, who was standing in the corner of the room. "Carlos, please bring us a bottle of the Hennessy Cognac and seven Cognac glasses. Then please leave the room until we call you back."
Norman held up the bottle of Cognac. "This bottle of Cognac costs one thousand, four hundred and fifty dollars. That's a lot of money to most people here on Earth. It's nothing to us. We are lucky to have been born into, or in the case of Diana and Lexie, marry into extremely wealthy families. We did nothing wrong. It's just the way God, Buddha, or whatever decided for us. Both Chris and I are tired of having to apologize for being both white and wealthy. I know in our hearts we are not prejudiced. Our, mom Daniela, would not allow us to be."
Norm interrupted, "I agree with what my brother has said." Looking toward Diana, he added, "Both of our wives agree with what we are saying. tonight They helped us develop what we are presenting."
* * *
"We need to give our colony a name," said Elon.
Gavin responded, "I've got a suggestion. Based on the fact the five of us guys have spent so much time at the Bowman Mansion, and you ladies are settled in there now, I suggest we call our spot on the Moon the Bowman Colony."
* * *
As you can tell, I'm getting closer to putting life on the moon, and the place now has a name. Meanwhile, here on Earth, if you ever get a chance to go to the French Laundry in the NAPA Valley, do so. I can attest to the fact that the food, wine, and presentation are fantastic.
Until next time.
Cheers,
Richard V. Rupp, Author
Website – www.richardvrupp.com Email – rupprisk@gmail.com