THE SPACE ECONOMY - 02.22.2021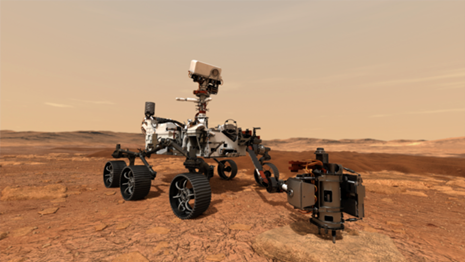 February 22, 2021
Red Rover, Red Rover, where are you? I'm on Mars. And, my name is Perseverance! Or, 'Percy' to my friends. Not Red Rover!
Yes, last Thursday, just before 4 p.m. eastern time, NASA's one-ton, nuclear-powered robotic explorer Perseverance finalized its 12,000 mph/300-million-mile journey from Earth. I'm sure the Mission Control staffs' hearts raced during Percys' seven-minute plunge through the atmosphere to land on the surface of the red planet. Percy now is roaming around Jezero Crater, a 28-mile-wide basin that is believed was once filled with water.
I'd better get back to writing my sci-fi novel SKYWARD before it becomes a historical fiction genre piece.
In SKYWARD, the Bowman identical twins and their buddies, all from very wealthy San Francisco families, decide that humans need to colonize space for their continued existence. My clique (a group of individuals who interact with one another and share similar interests) of Millenials, after considering what is happening on Earth, believe they can live better lives on the Moon or Mars than on Earth. They have no desire to get caught up in tribalism, racism, infighting, hate, declining environment, migration, and overpopulation, problems overwelling Earth. They put their money where their mouth is by establishing a colony for themselves on the Moon. They believe the Moon is the stepping stone for establishing future colonies on Mars and other heavenly bodies.
In my novel, the clique establishes a cryptocurrency as the money for their colony. However, they find the need for Moon money is minimal. This is because the colony's social structure is more like a "company town" or "commune." All housing and food are funded and provided by the clique. Their colony inhabitants live in harmony and work as a team to survive in a harsh environment. At least at first. Then reality sets in.
I mention Moon money and my clique's investment in space because I was surprised by a recent article that discussed the space economy. I quote the following from the U.S. Department of Commerce Forward to a January 6, 2021 paper from NewSpace New Mexico titled SPACE POLICIES FOR THE NEW SPACE AGE: Competing on the Final Economic Frontier publication -
"The ability to maintain a competitive advantage in the global space economy requires all of the tools available to government and industry in a free-market system. Government activities - whether as a first adopter, a predictable customer, or a regulator - will remain important, but PRIVATE SECTOR innovations, both technical and non-technical, are the primary drivers of competitive advantage in our properly ambitious pursuit of space exploration and space commerce. . .
. . . Financial and insurance innovations must occur at the same exponential rate as the technical and business model developments that drive the space industry. As important risk-shifting mechanisms for a very broad and diverse American entrepreneurial base, new tools will be required to support the infrastructure and other longer-term support activities identified in this chapter. Innovative ideas for creating a space bank, use of tax credits, space bonds, and even a space commodities exchange, among others, merit careful consideration for inclusion into the U.S. toolkit for creating and sustaining advantage. International space partnerships are an essential part of this strategic competition. . .
. . . will carry us into the heavens to explore the Moon and other planets, and will create breath-taking new capabilities to improve our lives back on Earth for all of humanity."
Then there is this from a February 12, 2021, Pentagon strategy study – "Throughout the 2020s, space activity – especially commercial space activity – will accelerate as new actors, both national and commercial, get in the game."
Finally, from the Space Safety Magazine Website – "Space manufacturing is particularly dependent on institutional civil and military investment. The traditional massive involvement of public actors in space can be explained with the particular features of this sector, whose complexity and economic parameters might sometimes discourage the private sector. In fact, a profit-maximizing firm shall likely invest and establish an efficient, cost-effective business model targeting a lucrative segment of the market, while a Government might address to other results that don't depend on profitability. However, THE INCREASING NUMBER OF PRIVATE ENTITIES CURRENTLY ENGAGED IN SPACE ACTIVITIES is gradually operating a shift in the traditional roles of the public and private sector."
Just in case you missed it, this is from yesterday's L.A. Times – "Nicaragua has created a new National Ministry for Extraterrestrial Space Affairs, The Moon and Other Celestial Bodies, which is drawing amused reactions on social media in a nation that has been struggling since anti-government protests three years ago."
Maybe my Millenial clique and SKYWARD are not science fiction.
Cheers,
Richard V. Rupp, Author
Website – www.richardvrupp.com Email – rupprisk@gmail.com