DOWN THE STRETCH THEY COME - 05.01.2021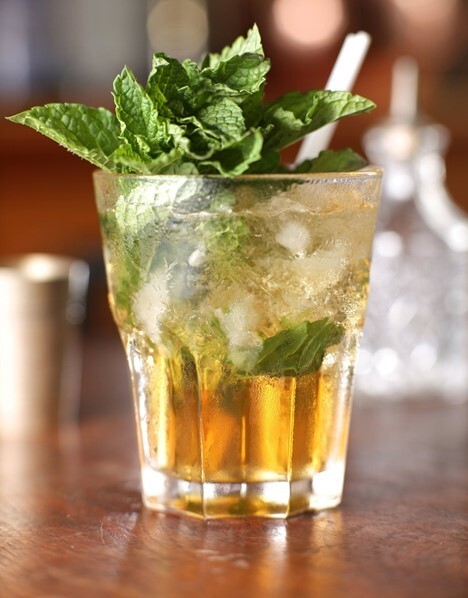 May 1, 2021
Today is Kentucky Derby Day!
The heading for this post is from an article about the Kentucky Derby and drinking Mint Juleps. The article concludes with – "You'll soon be a drunken mess."
Yesterday, I missed a tradition that went on for many a year. On the Friday before the Derby, I would join my buddies in drinking Mint Juleps at Le Central Bistro in San Francisco.
In case you were wondering, here is the traditional Mint Julep Ingredients – 2 oz of bourbon, ½ oz of Simple Syrup, 3 Fresh Mint Leaves, and Crushed Ice. To prepare the drink, you express the essential oils in the mint and rub them inside the glass. To the same glass, add simple syrup, bourbon, and crushed ice. Stir. Garnish with more ice and fresh mint. Cheers!
My dad was from Louisville, Kentucky, and loved the ponies. He told us that as a kid, he wanted to be a jockey. Instead, he ended up in Hollywood as a movie studio still photographer. I remember him taking the whole family to Santa Anita, Hollywood Park, and Del Mar race tracks to watch the ponies run. I also remember looking over his shoulder as he studied the daily racing form before making a bet. I could never understand what he was looking at. It had lots of numbers and tons of abbreviated terms that made no sense to me. As I couldn't figure out a racing form, I picked the horses' to win by their names.
Listed below are the 2021 Kentucky Derby contenders and their odds at the time I wrote this. Which one would you pick to win? I love some of these names. Where in the heck do they come up with them?
Here they are - 1. Known Agenda (6-1), 2. Like the King (50-1), 3. Brooklyn Strong (50-1), 4. Keepmeinmind (50-1), 5. Sainthood (50-1), 6. O Besos (20-1), 7. Mandaloun (15-1), 8. Medina Spirit (15-1), 9. Hot Rod Charlie (8-1), 10. Midnight Bourbon (20-1), 11. Dynamic One (20-1), 12. Helium (50-1), 13. Hidden Stash (50-1), 14. Essential Quality (2-1), 15. Rock Your World (5-1), 16. King Fury (20-1), 17. Highly Motivated (10-1), 18. Super Stock (30-1), 19. Soup and Sandwich (30-1), and 20. Bourbonic (30-1).
As a writer, just typing those names almost brings a story to mind. You've got people's names (Besos, Hot Rod Charlie), a location (Brooklyn), food and drink (Midnight Bourbon, Bourbonic,? Soup and Sandwich), and emotions (Sainthood, Dynamic One, Highly Motivated).
Now I should go with "O Besos." Did you see the latest Amazon numbers? Its report on Thursday was jaw-dropping. The numbers were beyond the most bullish expectations. Its first-quarter profit rose by 220 percent compared to the same period last year, reaching $8.1 billion. But the name is really not that sexy.
You know me and research. I had to Google Mandaloun. It's the term for a type of mullioned window. "The mandaloun is an element of the traditional architecture of Lebanon that first appeared in the 17th-century stately mansions and later in the vernacular houses of the mountains of Lebanon." Here, I thought it had something to do with the Disney show "The Mandalorian." My son Brian, who does a lot of work for Disney, got me into this show, and I love it. There has to be a story behind how this name was selected.
"Midnight Bourbon" piqued my interest, but "Soup and Sandwich" and "Known Agenda" were definite turn-offs.
"Essential Quality" at 2 to 1 seems like a winner. Who does not what to have an essential quality? It is always nice to be "Highly Motivated," and I would love a "Hidden Stash."
I'm not going to pick Bourbonic. At this point in time, it reminds me of the bubonic plague or a pandemic. I've had enough of that during the past year.
My final two are "Keepmeinmind" and "Rock Your World."
I'm going with "Rock Your World," and the odds are not even that bad at 5 to 1.
How about you?
Give that Mint Julep concoction included above a try.
Cheers,
Richard V. Rupp, Author
Website – www.richardvrupp.com Email – rupprisk@gmail.com
Copyright©2021 by Richard V. Rupp