HARTMANN'S SAN FRANCSICO PAD - 09.21.20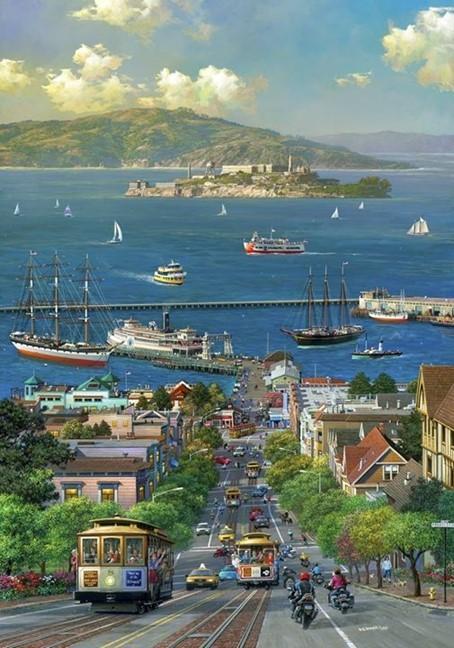 September 21, 2020
It took a major bank merger for me to move into San Francisco, from a home I was leasing on the beach in Half Moon Bay.
It was 1999, and the prior year Bank of America was merged into Nations Bank. A friend of mine worked in the Risk Management Department of BofA and was being terminated as the Bank Headquarters was being moved to North Carolina. He decided to take his severance package and buy a video store in Clear Lake, California. Looking back, that was probably not a good idea. Anyway, he had an apartment on Russian Hill at the corner of Leavenworth and Chestnut. At the time, it was the dot-com era, and apartments were impossible to get in SF. He agreed to sub-lease the apartment to me, which was great as his rent was far less than the current going rate.
For a number of years, I lived in that apartment, and over time made friends with the couple who managed the building. They were well-liked by the building owner, who converted two apartment units into one for them. That gave them a large living/dining room area and somewhat of a gourmet kitchen. To my great luck, when they decided to retire, I was offered their unit. You could not have asked for a better place to live in San Francisco. From the living room window, there was a view of Alcatraz Island, similar to the one above. From the kitchen window, there was a view of Coit Tower on Telegraph Hill.
I subscribe to the axiom, 'write what you know.' Hence, FBI Special Agent Hartmann's San Francisco Pad is the one I occupied for many years.
To get to my office from the apartment, I would walk down Columbus Avenue to California Steet in San Francisco's Financial District. It was one and a half-mile walk. For Hartmann, it is a 1.7-mile walk to the FBI Office located on Golden Gate Avenue in San Francisco's Civic Center.
From "Death & Taxes" here's how Hartmann got the apartment –
When Hartmann transferred from DC to San Francisco, his dad suggested he look up his uncle George, who proved to be a godsend. The dot-com era had made living space in the city impossible to find, and if you did find something, it cost a fortune. Dick had no desire to relocate to the 'burbs and was determined to live in the city.
His visit with Uncle George solved his living arrangements quite nicely. Uncle George had retired from his executive vice president position with Pacific Gas and Electric Company several years ago. He was making good money, so he invested in an apartment building up on the top of Russian Hill. Upon his retirement, Uncle George and Aunt Martha decided to move into the city and live in the building that was part of their investment portfolio. Prior to their move, they decided to combine two of the building's units into one and remodeled it, so that was it was more reflective of their lifestyle. . .
Just as Hartmann was about to move into a small unit in the building, his aunt passed away. At the funeral, his uncle advised him, "Well, Dick, with Martha gone, I have no desire to stay in San Francisco. The city and this building remind me too much of Martha. I'm going to go out playing golf every day. I just bought a condo on the sixteenth tee at Ironwood Country Club. It's in Palm Desert, down near Palm Springs. . .
"I certainly understand your decision, " Dick replied.
"Kid, I've always liked you, so here's the deal. You know the Russian Hill building is owned by a family trust that your aunt and I set up. I've made arrangements with a firm to manage the building now that I'm leaving. They've hired a single guy as the onsite manager. There's no way I'm going to let that guy have my unit. I'll let the management company know my unit is to be leased by you at the family rate."