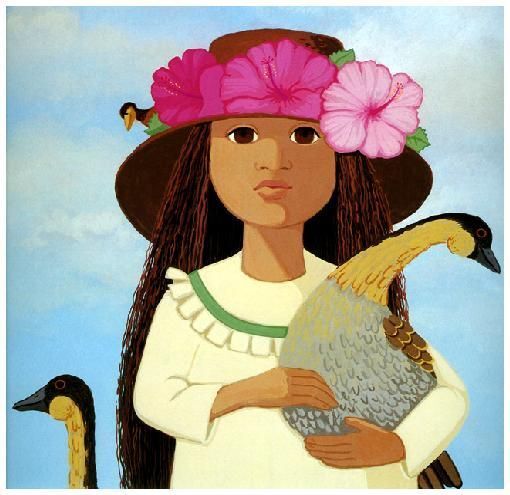 May 17, 2019
SOMETHING UNIQUE
My sister is in Heaven now, but I remember her often because my Burbank apartment is a gallery for thirteen of her lithographs.
I used to call her the Grandma Moses of Hawaii. She hated that. But, that's what little brothers do.
By this quote from an article about her artwork, you can see where I may have come up with the Grandma Moses bit – "The whimsically adorable art of Rosalie Rupp Prussing . . .Hawaii's most colorful and best-known folk artist." Rosalie had moved to Hawaii before it became a state and became one of the Island's most famous artists. I know for a fact that there are collectors around the world who have her artwork. An example of her work can be seen above. If you Google her name you can view other works of hers.
She would tease people by placing a 'mynah bird' in most of her pieces, and often you had to really search to find it. At a gallery in Hawaii where my sister's work was on display, I spoke with one of her collectors who told me it took her an entire day to find the 'mynah bird' in my sister lithograph titled. 'Orchid House.'
Her 'mynah bird' made me think about my novel writing. Do I include something unique in a book that would be similar? I know this is a stretch but, In a way, I do. There are actions or descriptions of people that I have experienced in life that are included. Simple things like my arthritis. Yes, my arthritis, which my brother and I inherited from my mother.
The following is from my upcoming novel Death on the High Seas –
* * *
Lester started to answer, "Lady. This is . . . " Oh, no. He had had them before when he had held a tool while working on an engine. Oh shit. Kurwa mać, he thought in Polish. The arthritis cramped his hand. Suddenly, his arm raised, and his body shifted away from the chair holding Egan. He could not control what was happening, his finger pulled backward on the trigger, a bullet ricocheted off the bulkhead and around the room. A second spasm pulled the trigger again, and a this round went through a couch.
* * *
I have learned as I have aged that if I start to get a twinge in my hand, immediately sit down the glass of wine or whatever else I may be holding. Arthritis can cause your hand to freeze, and you can't move your fingers, allowing you to hold something for up to three or four minutes. Then it relaxes. There is also some pain involved. For relief, I will place my hand on a flat surface and put pressure on it.
Here's another example of what will appear in a future novel. Shortly, after moving into my Burbank apartment, I was bothered by a tiny black fly that kept zooming back and forth in front of my eyes. I tried swatting it away repeatedly, but it kept dodging my efforts.
Welcome floaters – little specks that float about in your field of vision as you get older. I learned that most people learn over time to ignore them.
But, to someone in a future novel, the little speck will become deadly.
Rupp's Notes signup – If you like what my Rupp's Notes and want to receive future editions, please go to my website – www.richardvrupp.com and click on the Rupp's Notes wording above my name to sign up.