THIS IS WORK - 01.27.2021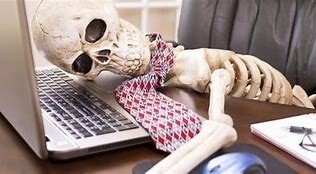 January 27, 2021
This is my 77th post. My first was on April 23, 2019. As some of you have figured out, I use the same text for both my "FBI Special Agent Hartmann Series," which appears on Facebook, Twitter, and LinkedIn, and "Rupp's Notes" that appears on my website (www.richardvrupp.com).
The idea for the posts was presented to me by the PR agency my publisher arranged for me to work with. Based on other authors' similar posts, I suspect this is a standard procedure recommended by PR agencies. It was suggested that three posts go out each week, and I have pretty well accomplished that standard. I must admit doing this is work. I note several of my fellow authors often include comments about the weather, how their pet is doing, cooking, or gardening. I understand why. It's hard to come up with things to include three times a week, as you are writing your books. Hopefully, you find what I write interesting.
Those of you interested in what I had to say in prior posts can go to my website (www.richardvrupp.com) and click on "Rupp's Notes."
My October 10, 2020 Newsletter titled "A Plan" indicated numerous Hartmann novels in the works or planned. Included are (1) DEATH BEHIND THE PINK WALL, where the Secretary of State and his wife are killed by the 'Gamers,' an ISIS cell. The 'Gamers" are made up of four radicalized young adults from Santa Barbara. The act occurs during a Presidential Retreat at Sunnylands. The couple's baby is taken by the 'Gamers;' (2) DEATH AT THE PRESIDIO, where a skeleton is found wedged in the remodeling of a restaurant in the Presidio, an old freezer unit wall. It is a WAC from WWII. Love, murder, and a sleeper Russian spy family come into play, and (3) DEATH AND THE CHICKS, where three San Francisco socialites meet a female Marine at the Redwood Room bar in the Clift Hotel. The Wookie is celebrating her discharge. She's not sure what's ahead for her. The socialites find her fascinating. The four start a non-profit charity that rewards them handsomely, including a unique way of fund-raising that involves murder.
Significant work has been completed on the three novels indicated above, but the plot for my novel SKYWARD got into my head. This has taken me on a tangent away from "The Plan" for the moment.
Cheers,
Richard V. Rupp, Author