WHAT'S THAT? - 07.26.2021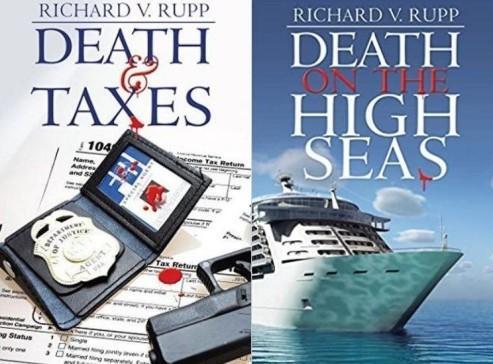 July 26, 2021
Good Monday morning. I'm author Richard V. Rupp, writing from overcast Burbank, California. Welcome to Rupp's Notes/FBI Special Agent Hartman Series posts.
"This is unusual," a National Weather Service meteorologist said. Yep, it's raining, more like drizzling here in Burbank. They are talking about possible thunderstorms and flash floods across large swaths of the region. First, we no longer know what rain is here in Burbank. And, second, it doesn't happen here in July. I'll chalk this up to climate change. My windows, which are set back, are all open so that I can enjoy the fresh smell that comes with rain.
I'm still on my soft food diet and taking antibiotics because of my tooth removal. This has made me lazy for the last couple of days. The time devoted to writing has also suffered as I have gotten caught up in watching the Olympics. A challenge for the brain, at least mine, as to what to watch, where it is on the NBC network, is it live or delayed, and at what time.
Not sure who NBC has made responsibility for inserting commercials during the games. There have been several occasions where the action is really exciting, and they insert three minutes of commercials. I do recognize they spent a fortune on the Games, but their commercial placement could be improved.
My last post was titled Up's and Down's, which applies to the USA teams in the Tokyo Olympics. I watched the US men's basketball team lose to France. That ended a 25 game winning streak for them. The US women's gymnastics team made several errors and is behind Russia. On the positive side, the US men's swimming team won Gold in the 4x100 Freestyle Relay. Then our women's team members Anastasia Zolotic won the first-ever Gold in Taekwondo, and Lee Kiefer gave us the first-ever Gold for Foil Fencing by upsetting the favored Russian.
There is still a long way to go, and we are second in metals, with China ahead of us at the moment.
Just took a break to watch the US Women's Water Polo team play China. I swear, Waterpolo players either have big hands or velcro on them. How they can catch the ball the way they do is beyond me. The ladies got off to a slow start but came to life in the second half to win.
While watching the Olympics, I do have my notepad next to me on the couch. As there are many breaks during the events, I have time to do a lot of thinking about my manuscript for SKYWARD. I'm not sure if this is good or bad, as I've come up with a lot of new scenarios to add and refinements of existing material. More Chinese involvement and a music theme running throughout the story.
I did take time out from the Olympics to watch 'Unforgotten' on PBS Masterpiece. Love the show. Following the show, PBS had a piece on the importance of music to drama shows. It proved to me that music can significantly contribute to the feeling you are getting from a scene. It can be used to change the expression of the words being said by an actor. Unfortunately, you can't use music in a novel. You just have to figure out the right words.
Cheers,
Richard V. Rupp, Author
Website – www.richardvrupp.com
Email – rupprisk@gmail.com
Copyright©2021 by Richard V. Rupp