PLAY LIKE A GIRL - 11.30.20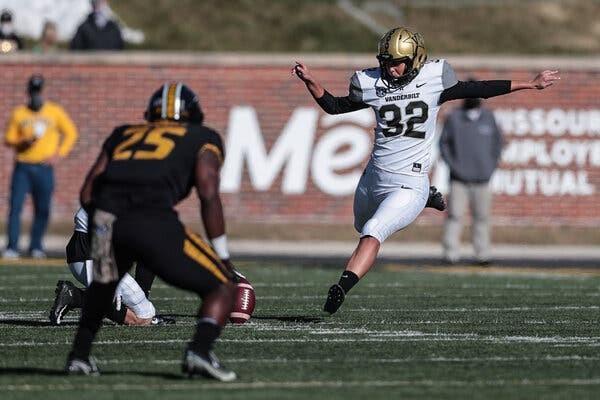 November 30, 2020
It was a sports-watching weekend for me. On Sunday, my RAMS lost a close game to their long time rivals, the NINER'S. I noted that the coronavirus has played havoc with the sports world. Games were canceled or postponed, and one NFL team was forced to play without a regular quarterback. The story I love the most was where Vanderbilt University's football team used Sarah Fuller as a kicker. GO GIRL!!! Could this be the start of something?
* * *
For those that missed Sarah's story, this is from the New York Times. "Fuller, a senior and the starting goalkeeper for Vanderbilt's women's soccer team, was tapped to play football this week after every member of the Commodores' kicking squad was forced to stop practicing when at least one of them came into contact with someone who tested positive for the coronavirus.
Fuller wore the No. 32 — the same number she wears on her soccer jersey — and a helmet with the phrase 'Play Like a Girl.'
'It's just so exciting that I can represent the little girls out there who wanted to do this or thought about playing football or any sport, really,' she said after the game."
* * *
On Friday, I watched the USA Women's Soccer team beat the Netherlands in a 'Friendly.' I think the Women's team plays a better game than our men's team by a long shot.
Back to my SKYWARD Research. As mentioned in my 11.28.20 post, my research methods begin with Googling subjects on the Internet. Then I selected pieces from the articles to cut and paste into a notes page. This information is then reviewed as a whole, and I go back and piece things together and write my notes to develop the story. Here is one more research note for my novel SKYWARD about identical twins Malford & Norman (N&N) who want to colonize space.
From a Google searched article - Identical twin analysis would allow researchers to estimate the heritability of specific traits and quantify genetic factors' effect on the individual trait. Psychologists have long known that a twin study is not a true experimental design. But, it has led to some interesting insights into the influence of genes on human behavior. It comes to close to suggesting the Genetic engineering of humans to improve IQ. It is also called genetic modification or genetic manipulation. It is pretty much taboo in today's scientific world.
Notes –
1. NASA used identical twin Astronauts, Scott and Mark Kelly, as subjects for NASA's Twins Study. Scott (right) spent a year in space while Mark (left) stayed on Earth as a control subject. NASA has big plans for the future of human spaceflight.
2. There is a lot of reference to identical twin studies that suggest IQ is primarily inherited. One professor indicated at the moment, this is a politically/socially sensitive subject to research and definitely to publish about. It comes too close to the Eugenics research in Germany before and during the Nazi period. Surprisingly this research was similar to that in the United States (mainly California), by which it had been heavily inspired.
3. M&N brings Eugenics back in their selection of who gets to live in their space habitats. They get to play GOD. Eugenics plays a significant part in how M&N select their wives. Tall women (like their mother) with high IQs'. Eugenics the science of improving a human population by controlled breeding to increase desirable heritable characteristics. Primarily developed by Francis Galton to improve the human race, it fell into disfavor only after the perversion of its doctrines by the Nazis. Galton advocated encouraging eugenic marriages by supplying able couples with incentives to have children.
It's time to get back to writing. I have plenty of notes to work from, so no more research for awhile.
Back to gin and tonics. I finally recoved from the Thanksgiving dinner and drinks.
Cheers,
Richard V. Rupp, Author