BOWMAN COLONY SPACEPORT - 03.22.2021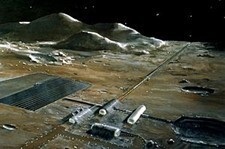 March 22, 2021
In my upcoming novel SKYWARD, the Bowman Twins establish a colony on the Moon as a stepping stone to explore and colonize the Universe. The plan is that the Bowman Colony on the Moon will never have more than 3,000 residents. However, many humans will pass through on their way to establishing colonies on Mars, Europa, are other heavenly bodies.
The most important facility in the Bowman Colony is the Spaceport. It is the logistical hub for receiving humans and supplies from Earth, but more importantly, it simplifies space colonization. The Spaceport houses four ground-based electromagnetic catapults or mass drivers that will launch spacecraft to explore the Universe for potential astronomical bodies that can support humans. The mass driver eliminates the need for booster rockets on the spacecraft. The Moon-based mass drivers, combined with the Moon's low gravity and lack of atmosphere, allow for the launch of larger spacecraft with greater payloads than could be launched directly from Earth.
An electromagnetic catapult uses a linear motor (as opposed to a rotary motor) to accelerate payloads to high speeds. They use coils of wire energized by electricity to make electromagnets. Rows of these electromagnets accelerate the payload along a path. After leaving the path, the payload continues to move due to momentum. Once the spacecraft has been accelerated, it separates from the catapult. It uses its onboard rocket propulsion system after that for guidance and landing.
The plans call for the Spaceport to be constructed four to five years after the Bowman Colony is first established. Most of the parts for it will have to be brought up from Earth. The picture associated with this post was prepared by NASA as an indication of how their Moon spaceport would look.
My SKYWARD, research and writing suffered the past few days as I have got caught up in March Madness. Two local teams UCLA and USC, are still around. After watching the last four regular-season games of UCLA, I didn't expect them to get this far. But they are playing well. This afternoon they are favored for the first time in the tournament as they play Abilene Christian. Oregon is still in it, and of course, there is Gonzaga out of Spokane, Washington. I pick them to take it all. For years I have followed the East Coast Villanova Wildcats, and they are in the thick of it again this year. It's funny seeing their coach J. Wright on the sidelines in sweats. Usually, he is in an upscale suit, with a tie and pocket hanky.
I've got to get moving. Need to do some writing, and then basketball takes over.
Cheers,
Richard V. Rupp, Author
Website – www.richardvrupp.com Email – rupprisk@gmail.com
Copyright©2021 by Richard V. Rupp